Laboratory of Landscape Ecology and Planning
Brief Lab Introduction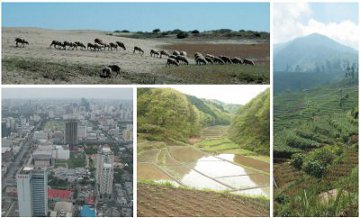 We aim to make effective proposal on environmental planning. In order to make a proposal, we try to clarify environmental phenomena with scientific methods.
The term "environment" is used more frequently to describe environment in wide range in several scales from global to local level. Depending to it, our research focus and approach varies remarkably. We apply engineering, natural scientific, or social scientific methods to analyze a variety of environmental phenomena.
Landscape ecology and planning, therefore, requires application of knowledge from associated academic fields, such as natural geography, ecology, urban and rural planning, aesthetic theory, and so on. It also requires application of statistic technologies, such as GIS and remote sensing for spatial analysis.
More details at our lab. website
Staffs
Toshiya Okuro (Professor)
Shizuka Hashimoto (Associate Professor)
Research Subjects
Proposal for sustainable national land planning
Relationship of distribution and connectivity of natural area with ecosystem functions
Conservation and Restoration of 'satoyama' ecosystem and landscape
Integrated urban-rural planning in Asian mega-cities
Establishment of environmental management planning in humid tropics
Monitoring of environmental changes in desertification area